Memorial Tree Standard
Updated procedures for memorial trees on UIC campuses – 02/2021
* This standard applies to all trees on State supported grounds at UIC.
To manage the limited open green space on UIC's campus and avoid planting in future construction sites, a new standard, based on the recommendations of the 2018 Master Plan Update, has been developed for memorial trees at UIC.
According to the new standard, newly-planted trees will no longer be approved for memorialization. Instead, existing, campus-owned trees (based on the UIC ArborScope tree inventory) will be recommended for donors to select for memorials. Requesting colleges and units must donate $900 to memorialize a tree, which will be used to support the maintenance of the UIC tree canopy.
For their donation, donors will be able to memorialize an existing tree based from the UIC ArborScope tree inventory.
The $900 donation is based on the average cost for planting and maintaining a newly planted tree plus the cost of producing a memorial tree tag/medallion.
A UIC medallion will be attached to the tree, containing the tree's ID information, brief text regarding the purpose of the memorial and a QR code linking to the tree's full information webpage.
Additional information regarding the tree dedication would be reflected on the tree's ID page on the ArborScope inventory website, accessed through the QR code.
Bronze plaques with granite base will no longer be offered with memorial trees, as well as the planting of new trees with the sole intention of commemorative purposes.
Tree dedications must be approved before donor agreements are finalized. Please send all tree dedication inquiries via email to pspm@uic.edu.
You can learn more about the UIC tree canopy through the ArborScope online tree inventory.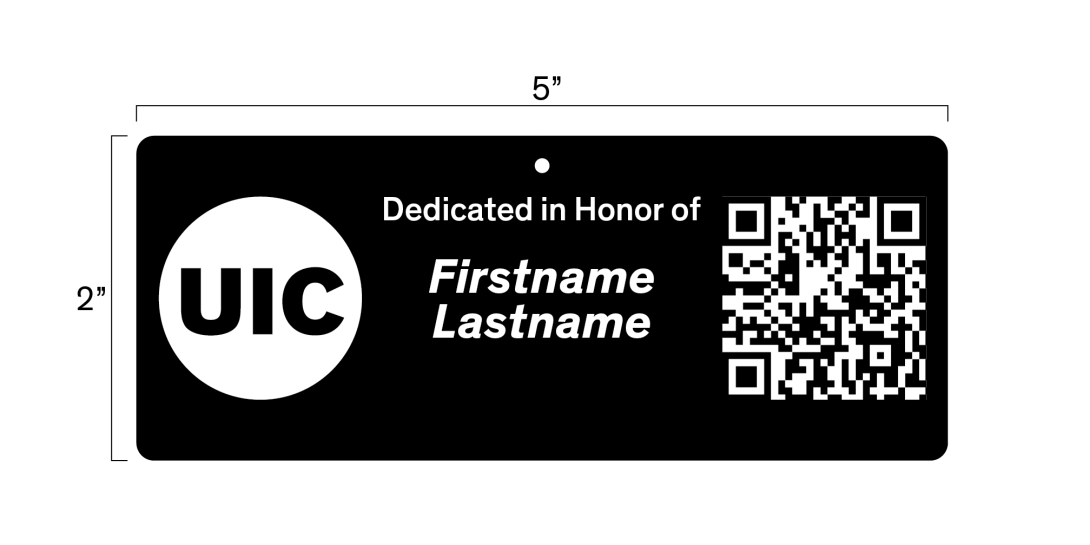 2″ x 5″ anodized aluminum tree dedication medallion