Campus Pollinator Habitat Plan
June 22nd-28th was designated National Pollinator Week in 2007 and has grown into an international celebration of the ecosystem services provided by pollinators. UIC recognizes National Pollinator Week as an important time to promote the efforts of the university towards sustaining a biodiverse campus through pollinator creation and conservation efforts.
UIC is dedicated to pollinator habitat conservation Heading link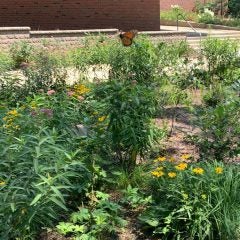 Arthington Mall Plaza is a joint effort between UIC, the National Fish and Wildlife Foundation, and the Metropolitan Water Reclamation District of Greater Chicago to promote the use of green infrastructure as an effective means of stormwater management. This plaza serves as a sustainable, open and common area for students, faculty, staff and visitors of the campus as well as a habitat for urban pollinators. In the rain gardens, there is nearly 14,500 square feet of soft landscaping comprised of native plantings that attract pollinators like the common eastern bumble bee, green sweat bee, calligrapher fly, and the monarch butterfly.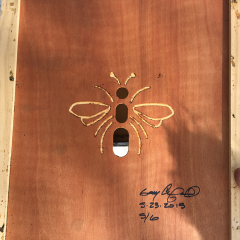 Researchers from the department of Biological Sciences' Ecology & Evolution group have done extensive work on pollinators and urban landscapes. Dr. Alan Molumby, the chair of UIC's Bee Campus USA, researches bees and pollinators. Dr. Emily Minor studies the effect of populations in an urbanized environment. Read more about Dr. Minor's work here.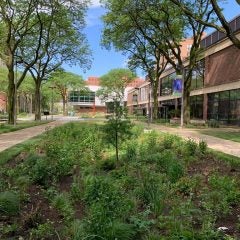 Through funding from the National Fish and Wildlife Foundation, the Sustainability department created and maintains the Little Prairie on the Campus that transformed a 2,000 square foot lawn into a pollinator-friendly habitat with over 20 different species of native plants. Eastern Tiger Swallowtail butterflies, Monarch caterpillars, and bumble bees have been sighted!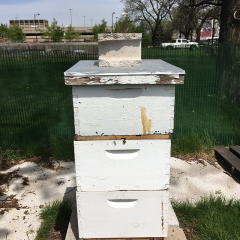 The Plant Research Laboratory hosts many native plants on the grounds surrounding the greenhouse that attract many pollinators including bumble bees and butterflies. Undergraduate Biology students can also study native prairie composition and structure here. The Plant Research Lab even has its own beehive!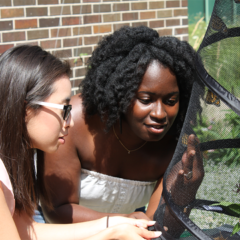 Students from the Heritage Garden work to promote environmental sustainability, cultural diversity, and social justice. There are 8 satellite gardens in and around the Quad. One garden is dedicated to the preservation of monarch butterflies by planting native milkweed. Another garden is a bioswale with native plants that attract other pollinators to campus.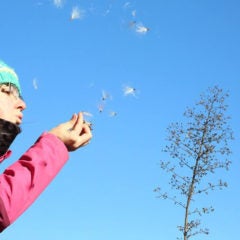 The James Woodworth Prairie (JWP) is owned by UIC through the department of Biological Sciences, but is located in Glenview, IL.  JWP maintains native populations of prairie plants and hosts researchers that wish to investigate native prairies and pollinators. JWP is open to the public and gives tours. Nearly 40 different bee species were found at JWP.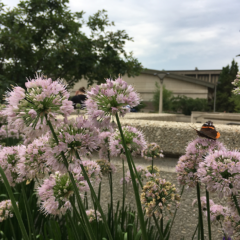 The Energy Resources Center in the College of Engineering at UIC partners with industry to promote pollinator habitat opportunities on working landscapes, such as energy and transportation rights-of-way. The group facilitates the Rights-of-Way as Habitat Working Group to support cross-sector collaboration and information exchange between energy and transportation organizations and leads the multi-sector Illinois Monarch Project to develop a statewide strategy for monarch butterfly conservation.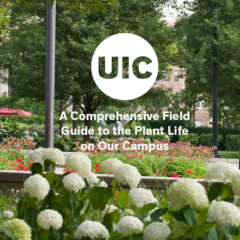 Facilities Management publishes a guide book with pictures of plants on campus and how to care for them that all members of the UIC Grounds team use to ensure proper maintenance of our plants. UIC: A comprehensive field guide to plant life on our campus