Water
UIC receives an average of 37.83 inches of rainfall per year on its 244-acre campus, or an equivalent of 251 million gallons of stormwater falling on campus. UIC consumes on average 660,000,000 gallons of water annually. To be truly sustainable, UIC should consume no more water than what falls naturally to follow the laws of nature and the hydrological cycle. This is the UIC Climate Commitment to become a net zero water university.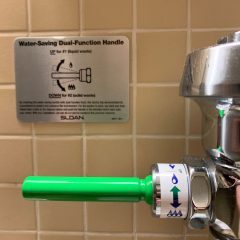 Grant Hall, Lincoln Hall and Douglass Hall conserve water through low-flow fixtures in the restrooms. In Lincoln Hall and Douglass Halls, the toilets have handles where users pull up to flush liquids and push down for solids. In a student project, it was discovered that removing automatic toilet and urinal flushers and replacing them with low-flow flushers will reduce water usage by over 70%.

If you notice excessive water waste, such as water dripping from a faucet, please report it to Facilities Management via FMWeb.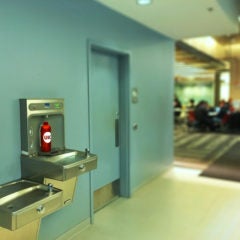 UIC maintains approximately 130 refill stations on campus that have been used to provide nearly 4 million refills to thirsty flames. This averages to over 30,000 refills per station. That's a lot of money saved and plastic kept out of the waste stream.

If you notice the water bottle refill station needs servicing, please have a departmental staff member create a non-billable maintenance request through FMWeb to have the filters replaced.

If you would like to have a water bottle refill station in your building, talk to your department to request one and submit a billable maintenance request through FMWeb.

To see where all the refill stations are located, visit the UIC Campus Map, look under "Top Destinations" on the left bar, and select "Water Refill Station" at the bottom of the alphabetical list.